Fun Trade Show Entertainment Ideas for Attracting Visitors! (Any Budget)
Trade shows provide a unique platform for businesses to showcase their products and services, make connections, and generate leads. However, standing out in a sea of competitors can be challenging. One proven way to attract and engage attendees is through entertainment. In this blog, we'll explore some innovative trade show entertainment ideas that can make your booth a hit.
1. Interactive Technology Experiences
In this digital age, interactive tech experiences can be a powerful magnet. Consider incorporating virtual reality (VR) or augmented reality (AR) into your booth. These technologies provide immersive experiences that can showcase your products in unique ways, create memorable interactions, and collect valuable user data.
Our trade show robots are an especially engaging way to attract attention and make technology seem very personal.
2. Product Demonstrations
Product demonstrations are a classic way to draw attention at a trade show. They allow potential customers to see, feel, and sometimes even taste or smell your product in action. To make it more engaging, you could turn these demonstrations into mini workshops where attendees can try the product for themselves.
Make demonstrations entertaining by connecting them to live performance elements. If you are selling motors, then you can have our yo-yo expert talk about features of your motors while demonstrating principles in a very entertaining and funny routine.
3. Magic Shows
A skilled magician can captivate audiences, create a buzz, and cleverly incorporate your product or brand message into their tricks. This can make your booth both entertaining and informative. Some magicians can even use tricks to gather business cards, helping you collect contact information for follow-up after the show.
Put your magician inside your booth to keep people there longer, or put him at the entrance to draw people in.
4. Interactive Games
Interactive games are not only fun but also excellent at gathering contact information. Consider digital games, spin-the-wheel, or trivia quizzes that require participants to provide their contact details to participate or win prizes. The games can be themed around your products or industry to make them educational as well as entertaining.
5. Live Performances
Live performances such as music, dance, acrobatics, or stand-up comedy can stop attendees in their tracks. These performances create a fun, relaxed atmosphere, encouraging more people to stop by your booth. Be sure to choose an act that aligns with your brand image and audience.
6. Caricature Artists
Caricature artists are a big hit at trade shows. They attract crowds and provide a unique, personalized keepsake for attendees. You can even brand the drawings with your company logo and contact information, creating a lasting impression.
With a digital caricature artist, passers-by will be drawn in by the live images on a large screen. When the drawings are done, they are printed out and put in a pouch that hangs next to guests' show badge, where other people will see it and ask about it all show long!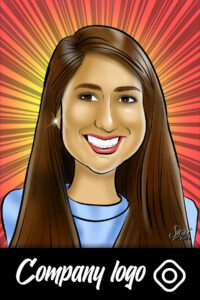 7. Photo Booths
Photo booths with branded props related to your business provide a fun and interactive experience for attendees. They also offer a fantastic opportunity for gathering contact information as you can offer to email the photos directly to participants.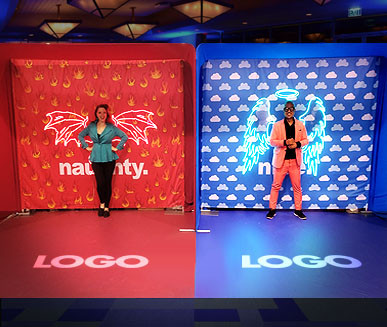 8. Celebrity Appearances
If your budget allows, hiring a celebrity, influencer, or industry expert for meet-and-greets or speaking engagements can be a significant draw. Attendees will line up for autographs, photos, or to hear them speak, giving you ample opportunities to interact and gather contact information.
9. Charging Stations
In today's hyper-connected world, a charging station can be a lifesaver at a trade show. While attendees recharge their devices, you can engage them in conversation, demonstrate your product, or collect their contact information.
While they are at the charging station, you can keep them engaged with our Serenity Studio Station, where they will be entertained by custom looped music and creatively designed messaging from your company.
10. Coffee or Snack Bar
A small coffee or snack bar can be a welcome sight for attendees who have been on their feet all day. While they grab a refreshment, you can engage them in a relaxed, informal chat about your products or services.
Take things up a notch by having our latte artist put your logo (or your guests' faces!) on top of those coffees.
The key to successful trade show entertainment is to create engaging, interactive experiences that align with your brand and resonate with your audience. Remember, the goal is not only to attract attendees to your booth but also to leave a lasting impression and gather contact details for follow-up. With the right entertainment, your booth can be the talk of the trade show. Schedule a meeting with one of our Entertainment Booking Agents today!