10 Captivating Christmas Party Ideas for a Memorable Celebration
Looking for the best Christmas party ideas? The holiday season is around the corner, therefore, you should start organizing events right now for an unforgettable Christmas holiday. Whether you're hosting a cozy family get-together or a big holiday bash, these creative ideas will add magic to your celebrations.
10 Captivating Christmas Party Ideas for a Memorable Celebration
1. Merriment on Wheels – Mobile Food and Beverage Cart:
Upgrade your Christmas event with a tasty twist! Imagine a charming mobile cart offering hot cocoa, cocktails, Christmas cookies and delicious treats. Your guests will enjoy mingling and indulging in delightful culinary experiences.
 Explore our customizable mobile food cart options!
2.Santa's Visit – Hire a Jolly Santa Claus:
Turn your gathering into a magical memory by inviting Santa Claus himself! Kids and adults will be enchanted by his laughter and joyful presence, adding a touch of wonder to your festivities.
 Book a 5-star Santa for your event here!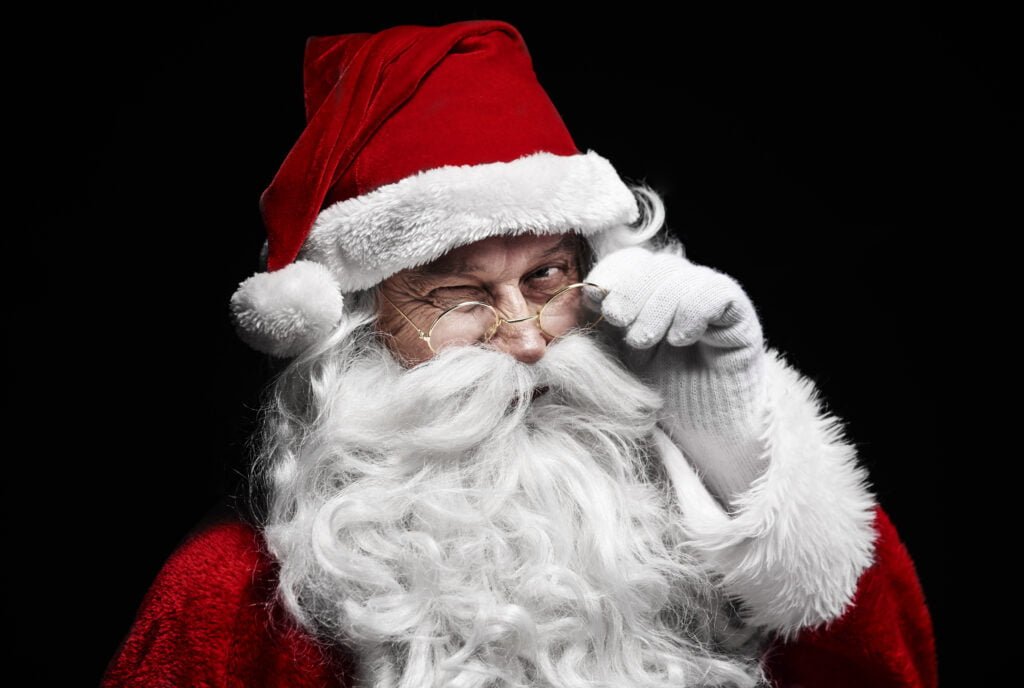 from Freepik
3.Gift Exchange:
Unwrap the joy of giving and receiving! Moreover, try a Christmas gift exchange to add heartwarming excitement. Set the stage for surprises and watch faces light up with gratitude.
4. Snap and Cherish – Rent a Photo booth:
Capture the season's spirit one click at a time! A rented photo booth is a treasure trove of joy, preserving precious moments forever. Plus, silly poses in Santa costumes and heartwarming group shots will become cherished memories.
from Freepik
5.Jingle All the Way – Christmas Party Playlist:
Set the rhythm with a curated playlist! From classic holiday tunes to modern hits, your "Jingle Bell Jams" will infuse the room with festive energy, getting everyone dancing and singing along.
6.Bingo Bells Ring – Play Christmas Holiday Bingo:
Turn your gathering into a joyful game! Embrace holiday-themed bingo for playful fun. Plus, capture picture-perfect memories as you mark your cards with seasonal images.
Get FREE Christmas Bingo card template right here!
from Incremental Mama
7.Dance in Light – LED Dance Floor:
Elevate your Christmas party with a dazzling dance floor! Picture an LED floor synced with music, casting a mesmerizing light show. Guests will dance and lose themselves in a magical experience.
8.Stylish Sips – Customized Ice Trays:
Transform drinks into art and create your own winter wonderland! Impress guests with custom ice trays matching your Xmas event. Each sip becomes a statement of holiday cheer, adding elegance to beverages.
9.Decorate Delicious Christmas Cookie:
Unleash creativity with cookie decorating! What's more, frostings, sprinkles, and decorations can become a canvas for family and friends to bond over delicious masterpieces.
Find a recipe right here!
10.Noel PJ Party:
Wind down with comfort and camaraderie! Invite guests to a pajama-themed gathering, complete with soft blankets and pillows. As a result, your lounge area will become a haven of relaxation and laughter.
from Freepik
Takeaway from This Organizing Xmas party Article
Embrace these imaginative ideas for a Christmas event full of joy and laughter. Moreover, from delightful treats to lively entertainment, your gathering will radiate holiday cheer, creating cherished memories. The time to plan is now—get ready for a Christmas extravaganza that will leave your guests beaming with joy!