How to Plan Your Great Gatsby-Themed Party
Looking to throw a world class Great Gatsby-Themed Party that will have your guests feeling like they stepped back in time? Look no further! Here are some ideas for entertainment and decorations that will help you create an unforgettable Themed Party evening with flapper girls, illicit gambling, and swinging music.
Great Gatsby-Themed Party: Set your party clock back to 1920
The best place to start is literally the beginning!  When guests arrive, have them go through a hidden entranceway that they must find in order to gain access to the party. This can be as simple as having them enter through a side door or could be as fun as going through a fake phone booth or fake wall.
Gatsby décor
There's one color combination that can't be beat: black and gold. This glamorous color scheme is the perfect way to create an elegant and stylish atmosphere for your celebration. Beyond your basic decorations and gold trim, don't forget the glitter!  Gold glitter is not only a great way to carry the color scheme through your party, but it also will give your guests the magical feeling of being in this carefree era.  Try encrusting your glasses and champagne bottles with glitter!
Dress in 1920s style
A flapper-style dress with plenty of sequins or tassels is a must, as is glittering jewelry (arm bangles and looong necklaces) and shoes. If you have long hair, consider styling it in an up-do. Red lipstick is always a welcome addition!
For the gentlemen, a pinstripe suit is ideal. And don't forget the accessories: a waistcoat, top hat, braces, white gloves, and cane are all perfect finishing touches.
Cocktails and misbehaving
Classic drinks like the Gin Rickey, the Hanky Panky, the Bee's Knees, and the Sidecar are sure to transport your guests straight to the Jazz Age. And what would a 1920s party be without a little bit of gambling? Let us help you with some blackjack, poker, and roulette tables for your guests to enjoy.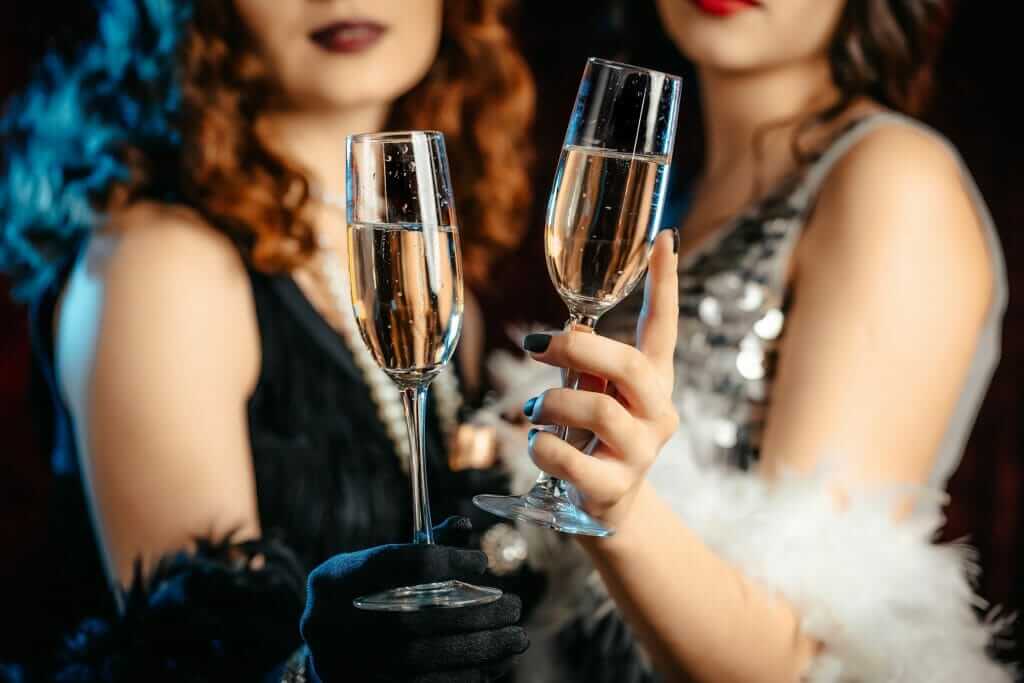 1920s-Themed Entertainment
Our team can help you with all the entertainment needs for your event. Check out some of our most popular acts for Great Gatsby-inspired events. This includes live bands and vintage-themed DJs, 1920s dancers, vintage fashion illustrators, immersive characters, roaming characters, and more. Professional dancers could not only perform at your party but also add some excitement and get your guests up and moving, as they teach them to dance the Charleston and Lindy Hop.
Create a Party Welcome like Jay Gatsby Would Have
Consider hiring our 1920s-themed hostesses in champagne dresses. Dressed in flapper-style dresses, they can help set the scene when guests arrive and encourage guests to interact as they all take their glasses. Plus, they provide a unique and elegant touch of excess to your party.
A step beyond flapper girls, our 1920s fashion showgirls bring some haute couture to your event and provide your guests with an up-close and personal entertainment experience. Consider setting up a themed photo booth so guests can capture their own memories of the party in their roaring twenties costumes.
A jazz swing band is a must, if you want to add some extra ambiance to your party. We have groups with extensive repertoires of jazz tunes, as well as rearranged versions of popular current songs.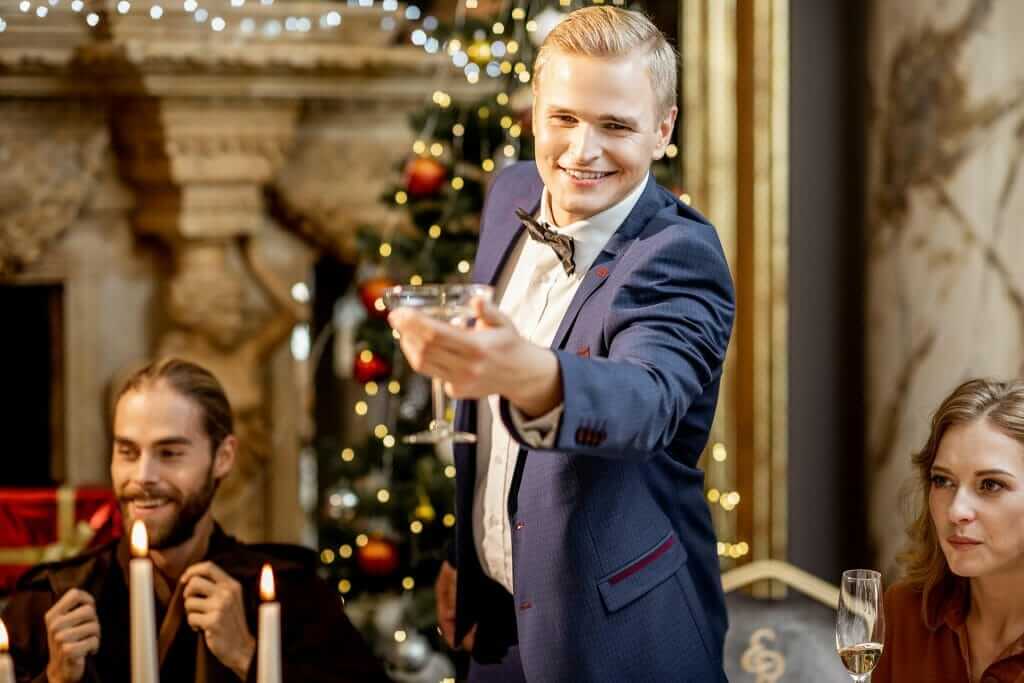 Dinner and then some!
Even during the meal, you can keep your Gatsby-themed party going with a martini glass burlesque performance! This type of roaring twenties-themed party entertainment is professional, classy, and adds a bit of campiness to your event.
Too much?  Not enough?
If it all seems too overwhelming to plan out yourself, contact one of our Entertainment Specialists to help you develop a custom entertainment experience for your corporate event, party, launch, or gala that would make Jay Gatsby proud. From themed entertainment to custom props and décor, we can help you create an unforgettable experience that is custom-tailored to your vision.  We bring life to your event.